ITINERARY: Saturday, 5th October 2019 – Tuesday, 8th October 2019
Day 1
Left Singapore Changi Airport 10:30 AM via Air Asia , arrived in Kuala Lumpur an hour & 10 minutes later. Changi's world-class airport offers a wide variety of food for every preferance. We had breakfast at a small coffee shop and enjoyed easy online check-in. Unfortunately, two items were disqualified from our hand-luggage (sob, there goes my Himalaya face scrub) for unecessary reason as they were both under 100ml. Side note: this is when I seriously feel robots should replace humans. It seems this kind of thing occurs depending on the guy's mood. Our flights came to 284.30 SGD for two people. This could've been cheaper if we hadn't been the last-minute planners that we are.
Flight was quick and fairly comfortable. Queing at Malaysia airport & immigration services made me aware of how spoiled a person can become living in a place like Singapore! Malaysia feels a lot more relaxed, but this isn't necessarily a bad thing all-round. I found Malays to be friendly and welcoming. The information desk was incredibly helpful in assisting us to get tickets for the train. This cut our journey to our accomodation 30 mins shorter than if we were to take a cab. Catching the train was an interesting experience, though the lines were confusing and the elevators leading to the platform were out of service. This wasn't too much of a problem for us, though Dan had to help a man in crutches down the stairs. There should definitely be options for people in these circumstances.
We were happy to come across a little fruit and veggie shop at the Bangsar stop where we feasted on some of the most delicious dates I've ever had – big, sweet and chewy! We found a cute & affordable loft 5 min walk away from the LRT just over Air BnB . Dan and I were happy with our accomodation as it was easily accesible by train. Clean, air-conditioned and minamalistic; the loft fit our needs & preferences. Only downside is that some basic amnemnites were lacking (at least put some handwash at the basin?) and I suppose the space could've had a rug or a painting to add a bit of personality and warmth. Otherwise, we were happy with our stay. We spent the day eating at the on-site restaurant Botanica & Co and took a dip in the rooftop pool.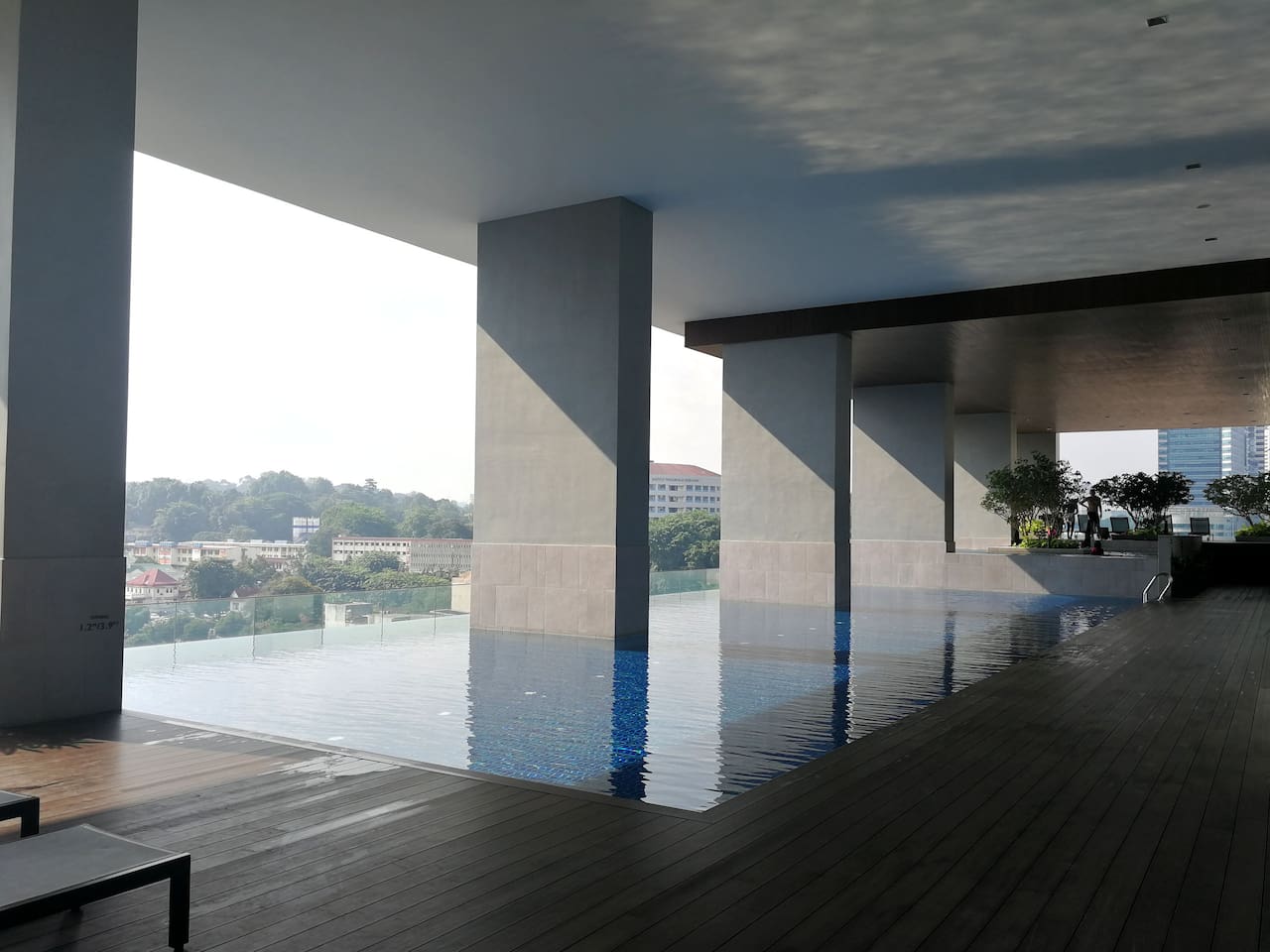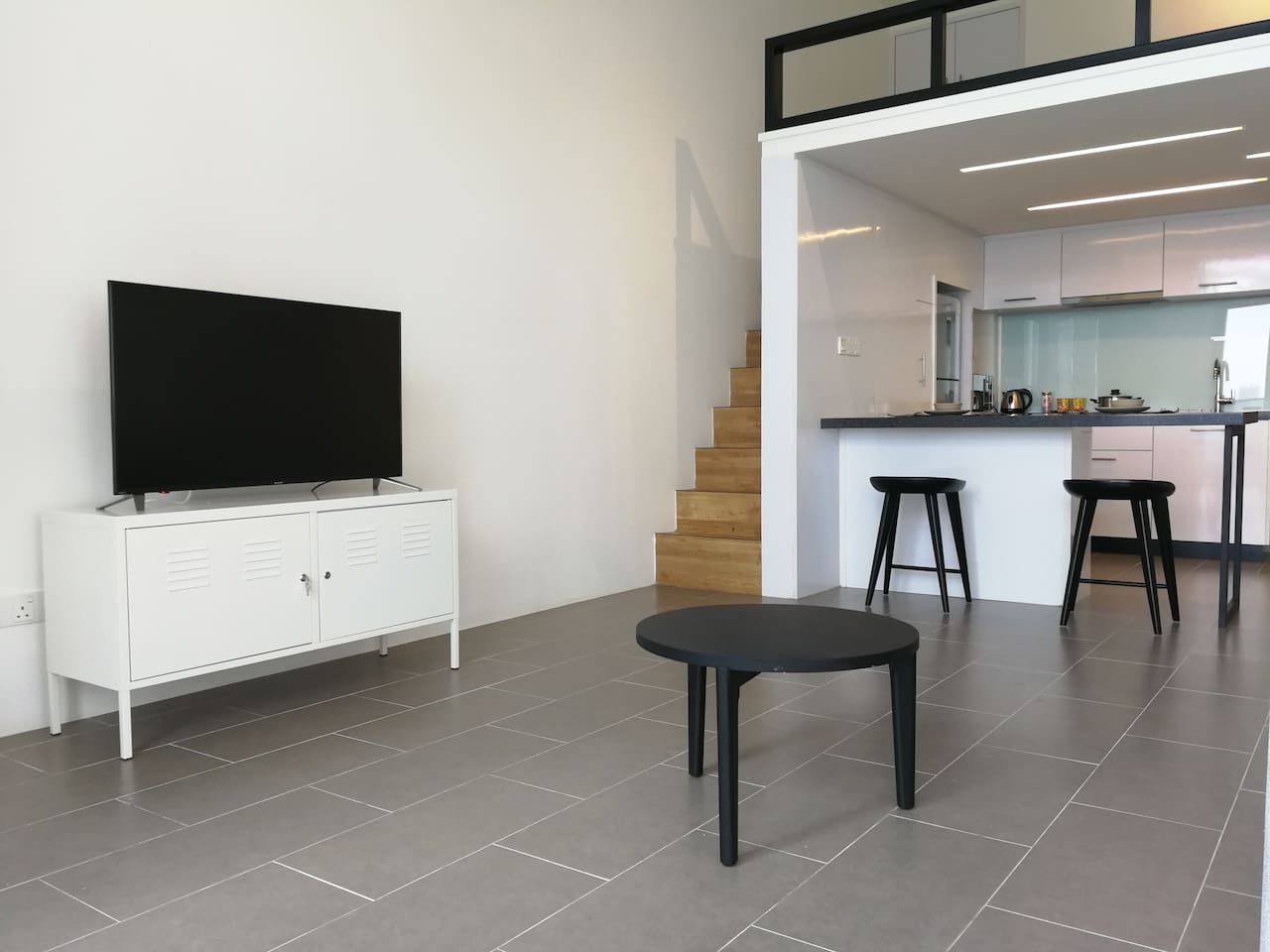 Malaysia is generally considered cheap to Singaporians, KL being the most expensive city. We found the restaurant prices to be quite similar to Western food prices in Singapore, though the portions were bigger. We really enjoyed the Middle Eastern influence in KL. Ordering from Grab Food was such a delight in all the variety offered!
Day 2
Air BnB lead us to a jungle experience
This trip is ideal if you want to experience nature but only have a limited time in Malaysia – particulary if you find yourself in KL, like we did. The host waited at an agreed-upon location, where we took a Grab to meet him. He then drove us in his own personal vehicle to a local little place for breakfast. This is included. To be really honest, the food was not particularly to my taste, but the guide was so friendly & knowledgable, he made for good company and conversation. There was only one other person who joined Dan and I on the trip. Apparently she was a police officer from Singapore… no funny business guys!
The drive to the jungle was around 35 mins out from the restaurant, under an hour away from the city. The entrance to the tropical jungle was surprisingly on the side of a road, whereby we were to decend using the stairs built for treks to the trails leading to the hidden waterfall. Beware if you are not a fan of being latched onto by leeches, or possibly encountering a snake. I was lucky enough only to have encountered two tiny leeches on my foot (one between my toes – eek) and we did not see any snakes – phew! The guide – being a true nature-enthusiast – became very excited at the sight of particular insects or plants, and is very knowledgable on surviving the Malaysian jungle LOL. He took us to the second-largest tree in the jungle, caught what he claimed was the biggest ant in the world to show us – despite the ants frantic efforts to bite him. We were lucky to spot dragon flies, butterflies and come across gooseberries (which I tried for the first time ever – exciting stuff hehe.)
I'm no expert, but I'd consider the trek to have been moderately easy with a few challenging, but mostly exciting parts. Our guide was great but we found him to rush through the trek. The rainforest was absolutely beautiful, and arriving at the waterfall felt like an awesome accomplishment, rewarded by a fresh swim (and a little natural hydro pressure massage). We were expecting the site to be all ours, but were surprised to find a few groups of people picnicing and swimming in and around the water. No jokes, someone was even frying chicken nuggets on a portable cooker! We trekked back up to where we left the car, via a shorter cut this time. I was dissapointed to see people disposing of their rubbish along the jungle, and even washing in the river using soap! Most chemicals in shampoo are harmful to the environment in one way or another. Again, maybe robots should take over?
Malaysia is a conservative Muslim country. For this reason, I found myself uncomfortable with the idea of being in a swimsuit – despite it being a full-piece. I felt people staring dissaprovingly at me, even when we were having breakfast at the local restaurant. I was wearing a playsuit considered normal where I am from. I recommend you wear something like leggings and a big baggy shirt, with comfortable trekking sandals if you are female. Males, you may also find yourself feeling uncomfortable to swim shirtless. Maybe it was just me, but that's the general vibe I got. Women were bathing in full attire, including headscarf.
The guide offers the option of making it a full-day experience by requesting he take you to either:
Batu Caves
Federal Mosque
a Buddhist Temple
Dragonback Trail
visit to the "rare fireflies place"
Unfortunately, we did not find we had the time for these additional experiences. The hike to the waterfall left us feeling quite tired, and satisfied anyway :).
We were offered ice-cream from a Pakistani ice-cream man (who was video-chatting with his father back home and left the camera on for everyone to wave at him LOL). I got something made of redbean and coconut milk that tasted very natural and delicious. We had the opportunity to change from our wet clothes (oh yes, I suggest you bring a change of clothes) and then head out to have lunch at a similar-looking place to eat. Again, not crazy about the food, but it was nice to experience eating like a local. We were dropped off back at the original location and took a cab home. Side note: we found the cab drivers in KL to generally cancel the trips or get a little lost. Upside though, so cheap compare to Singapore rates!
Day 3
The whole reason we went to KL in the first place was so that my boyfriend could get his new passport from the embassy there. So Monday was the day he went to do that. Sure, I could've gone exploring on my ace, buuut I decided to sleep in instead (I know…). Anyways, he didn't take too much time to return. We had a bite to eat (some snacks he brought over – he knows the way to my heart is through food) and then headed out to the heart of the city where we got haircuts at a Korean hair salon (that would've costed an arm and a leg in Singapore) and took pictures with the famous Petronas Twin Towers .
My boyfriend, being Persian, wanted me to try good-quality Persian food at a fraction of what it would cost us in Singapore. He took me to Naab Dining where I was surprised to find a very Middle Eastern vibrancy that made it hard to believe I was in Asia. The energy of Arabic music blasting from the neighbouring restaurant, and the delicious dishes we had before us, left me feeling highly satisfied. Dan and I actually ate way too much that night. We ended up walking some of it off to head out in search of a bar.
Someone recommended we go check out this Helipad place that becomes a bar at night, though we weren't too impressed when we arrived. We could have expensive alcohol with a city view pretty much all over Singapore, so we opted to go to a place that offers hubbly (hookah/ shisha – depending on what you call it) as this is something Singapore does no longer allow. Canopy Lounge was a treat. An Arabian-themed rooftop bar, offering a range of over 50 different flavours of hubbly. We spent HOURS there! It felt like our early-dating days guys, no jokes. Dan and I see each other everyday, and often run out of things to talk about beside the usual "how was your day?", but this place had us zoned out with a hub talking about all sorts of things until early hours of the morning. Highly reccommended!
Next day we headed back to Singapore with fond memories of Malaysia. It's crazy how close these two places are to one another, and after seeing how easy and affordable it was to travel out, we'll definitely be planning a trip back soon.